BOAWeb
Internet Banking
Your fingers got you!
A very convenient internet banking platform that provides our customers with simple, secure and efficient answer to managing their accounts.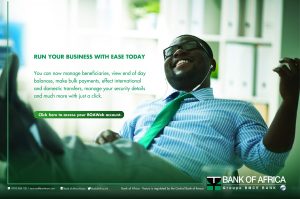 Gives you access to your accounts anywhere anytime i.e. issue transaction instructions 24/7
whenever convenient for you.
This module allows you to consult and print your account statements. You can opt to export
account statements in file form so as to include them in your accounting software and thus
make reconciliation work easier.
Benefits at a glance…
• Make international transactions
• Attach supporting documents for international transfers
• Access to your account anywhere anytime 24/7
• Access and ability to print your account statements
• Easier reconciliations
• Assured safe and secure transactions
• Make cheque book requests
• Bulk salary transfer
• Bulk Mpesa transfer- where several recipients are involved
• Bulk PesaLink transfer- where several recipients are involved
Downloads
Registration process
Download the application form below, fill it and drop it at the nearest BOA branch or contact
our Call Centre on 0703058120 or visit any of our branches and talk to a Customer Service
Officer.
What you get…
a) Account Reporting
• View account balances
• View end of day balances
• View detailed transaction movements – List of transactions on accounts
• Search and Download: Search for transactions on accounts and download statements in CSV, XLS (Excel) and PDF formats
b) Funds Transfer
• Domestic transfer
• International transfer with the possibility of attaching supporting documents.
• Beneficiary management (secure addition of a new beneficiary
• Signing of payments (for multi-signatory business customers)
• Standing orders – creating, pausing and stopping at ones convenience.
c) Statutory payments
• KRA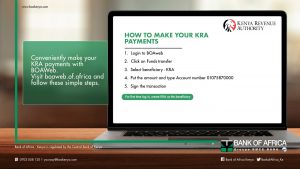 d) Management of personal details (personal settings)
• My accounts (information about my account settings)
• My personal data (email address, mobile phone number, address)
• My security details
• Change my password
• Multi-factor authentication
e) Bulk Payments
• Mpesa – Client executes a contract in triplicate and its attested by an advocate.
• PesaLink – Fast and reliable (can be used for salary processing)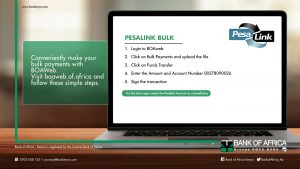 • Salaries – This is processed via EFT/ RTGS.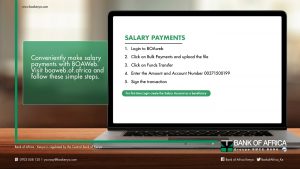 Related Links