BANK OF AFRICA CSR PILLARS
Corporate Social Responsibility at BANK OF AFRICA – KENYA is more than an initiative, it is our way of doing business. The bank has put in place three pillars of focus:
HEALTH
Bank of Africa's Angaza Kifafa initiative scoops global award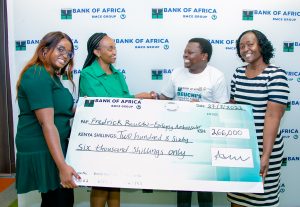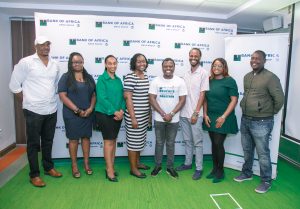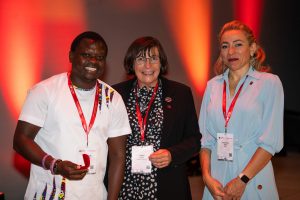 A Kenyan will lead the world to mark Epilepsy Awareness in November after scooping the Global Epilepsy Ambassador Award in Dublin, Ireland. Fredrick Beuchi Mboya an advocate of Epilepsy awareness through the Angaza Kifafa campaign supported by Bank of Africa Kenya trounced his global peers to become the 68th recipient of the biannual l award.
This year's International Epilepsy Congress attracted over 3,000 healthcare and scientific professionals from across the global epilepsy community. The Ambassador for Epilepsy Award is intended as a recognition of outstanding international contributions to activities advancing the cause of epilepsy, either internationally or with international impact.
The award opens up opportunities to network and mobilize support from key players in the epilepsy awareness sector to end stigma and support people living with the neurological disorder. This is not the first time he is being recognized for his over decade long commitment to create awareness for the disorder that now affects at least 70 million globally and 1.2 million in Kenya.
In 2021, he won the Goldenlight Award by the International Bureau for Epilepsy-IBE for his  long term contribution in raising awareness about epilepsy through innovative sports expeditions. For instance, in 2018, he walked from Nairobi to Mombasa to raise awareness. In 2020, he cycled from Nairobi to Arusha Tanzania, rested for 2 days then I climbed Mt. Kilimanjaro for 7 days.
Bank of Africa Kenya has been supporting epilepsy awareness in Kenya through the  Angaza Kifafa Caravan initiative in partnership with The National Epilepsy Committee Council (NECC).
The aim of the caravan is to create awareness on epilepsy with the message that the disorder is manageable. So far, it has managed to reach over 10 million people in 18 counties in the past eight years.
The bank's data shows the awareness has since reached slightly over 10 million people across 18 counties since 2015.Furthermore, at least 5000 patients have been referred to health facilities for proper treatment and over 6000 medics and community health volunteers trained through Angaza Kifafa caravan.
Epilepsy is a neurological condition, which is characterized by acute seizures, including adverse seizures which cause involuntary movements, shaking, confusion and anxiety. The high burden of epilepsy is attributed to the high case load associated with the increased prevalence of risk factors. Such as preventable brain injuries and to poor access to health-care services due to multiple barriers, including financial cost.
A person is diagnosed with epilepsy when they have had two or more seizures in their lifetime. 4 to 10 out of 1,000 people on earth live with active seizures at any one time. Globally, it is estimated that 1 in 100 people have epilepsy. In Kenya, an estimated 1.2 million people live with epilepsy and only 30 per cent seek treatment. Despite epilepsy being estimated to affect around two  per cent of Kenya's 45 million population, there are misconceptions about the conditions that makes it difficult to manage.
The Bank of Africa Kenya has conducted a number of activities since 2015,aiming to lower the number of people affected by the disorder to a single percentage from the current two per cent. Apart from roadshow caravans, medical seminars and use of community health promoters, the lender has funded a myth debunking documentary dubbed 'Dare to be'. It gives a highlight of patients the lender has supported since 2015 through the Angaza Kifafa initiative since 2015. Internally, the  BOA Kenya regularly conducts staff training with an aim to debunk the myths.
Angaza Kifafa
The Angaza Kifafa Caravan is an initiative by BANK OF AFRICA – KENYA in partnership with The National Epilepsy Committee Council (NECC). The aim of the caravan is to create awareness on epilepsy with the message that Epilepsy is Manageable. The caravan has reached over 5.5 million people in 16 counties in the 5 years it has been in existence.
Epilepsy is the most common neurological disorder in Kenya and the 4th in the world.
Angaza Kifafa milestones:
Visited 16 counties (Uasin Gishu, Machakos, Nakuru, Nyeri, Nairobi, Meru, Taita Taveta, Embu, Kitui, Kajiado, Kakamega, Kisumu, Kericho, Mombasa and Kisii, Homabay) in 5 years reaching over 5.5 million Kenyans
Over 202 schools reached
16 churches reached
More than 900 community health volunteers and medical practitioners have been trained to handle Epilepsy cases
Persons living with Epilepsy have been able to be issued with NHIF cards in several counties.
As a result, 1200 people in counties have been able to receive medical attention
Epilepsy clinics and treatments have been established in Kisumu county, Uasin Gishu County and Kakamega county,
BOA- Kenya staff raised the Angaza kifafa- Bank Of Africa flag on Mt. Kenya in support of Epilepsy Awareness
EDUCATION
Under the Education Pillar, the Bank the bank has partnered with Education for All Children (EFAC) and Lewa Wildlife Conservancy (LEWA) in sponsoring students through four years of their tertiary education.
The Bank's key role is to provide education to needy brilliant students with the opportunity to get an education as they are the future leaders of this country.
SPORTS & CULTURE
Under the pillar of sports and culture, the bank sponsors the BOA Vikings Ladies Hockey club, We also have sponsorship for upcoming artists like Lumumba Esuchi