Banking at the palm of your hands
The Bank of Africa B-Mobile service allows you access to banking services from the comfort of your mobile phone anytime, anywhere.
Registration process
Self- Registration: This can be done through the *987# or though the B-mobile App on the Play store or App store. Fill in the details required. An SMS will be sent to you with details of your USERNAME and one-time PIN, you can then Login and once you enter your one-time PIN you will be prompted to change it to a PIN that is familiar to you. Always keep your PIN secret and never share it with anyone.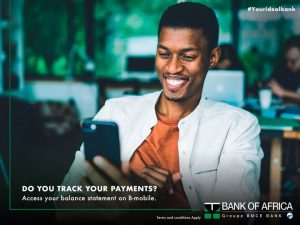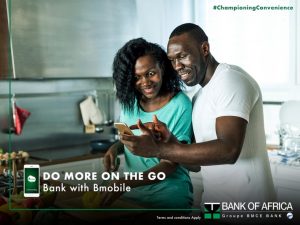 Physical Registration: Download the B-mobile application form, fill it and drop it at the nearest BOA branch.
Pin Reset: Download the B-mobile pin reset form, fill it and drop it at the nearest BOA branch 
Bmobile is accessible in two ways:
A smart phone user will download the app from the app store or Play store
A basic phone user will access the platform by dialing *987#
B-mobile offers the following services:
Balance Inquiry: Mini statement and Full statements, Account balance
Funds transfer – between own BOA accounts, other BOA Accounts and issuing of EFT and RTGS instructions.
M-pesa : Transfer money from your BOA account to your M-pesa account and vice versa.
Pay directly from your BOA account to an M-pesa till number.
Airtel Money : Transfer money from your BOA account to your M-pesa accounts and vice versa.
Bill payment : Utility Bill Payment (DStv, Jambo Jet,   KPLC, Jamii Telecom, GOtv, Nairobi Water, and Star Times)
Airtime Top up : to Safaricom, Airtel and Orange subscriber numbers.
Cardless withdrawals : Withdraw cash from your BOA account at any BOA ATM machine without using an ATM card.
Cheque book services : Cheque book requests
Locator : Under this section, you can find your nearest branch and their opening hours as well as how to find the nearest BOA ATM machine.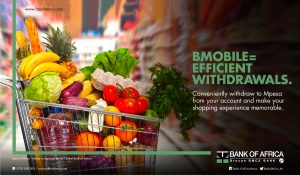 Mpesa Deposits
Using the Paybill number 972900 you are able to deposit funds into any Bank of Africa Account from Mpesa
Downloads
Contact our Call Centre on 0703058000 or visit any of our branches and talk to a Customer Service Officer.
Related Links