Through the Transactional account, the bank has made it possible for business owners, Church managers, Institutions, NGO's to instantly access funds paid via the Lipan an M-Pesa service. This gives business owners real time access to funds credited from either the M-Pesa Paybill numbers or Till number. A critical move that unlocks csh making it readily available for the customer to efficiently run their business, church, organization, institution.
The Transactional account is a solution
The account takes NO ledger fee for Mpesa deposits.
The SME client acquires their Till number FREE within 24 hrs.
The account gives SMEs clients access to their Mpesa Till payments INSTANTLY.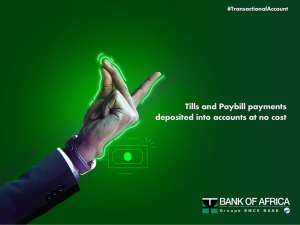 Target Market
Entities that receive payments from both banked and unbanked individuals such as policy holders, farmers, dealers, tenants, church members, tenants paying rent and periodic fee payers. They include but not limited to:
Customers with Pay bills/tills and don't use BOA as their settlement bank
Existing customers who wish to start offering Lipa a Mpesa as a means of payment in their outlets
Insurance companies & Real Estate Agents
Educational & Religious institutions
Fast-Moving Consumer Goods (FMCG) companies
Corporate accepting Mpesa as a mode of their payments from both banked and unbanked payers.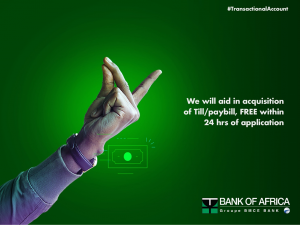 Transactional Account Benefits.
Deposits received through Tills and Paybill payments will be sent to the account at no additional cost.
Real-Time Lipa na Mpesa settlement to your BOA account, offering operational efficiency on reconciliations
Efficient cash management as a result of free e-receipts for debits and credits to the account.
We will aid in acquisition of Till number, FREE within 24 hrs for new applicants.
We will facilitate bulk Salary Processing.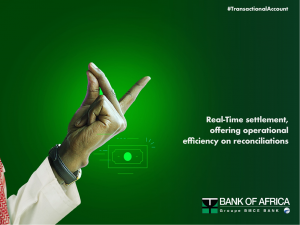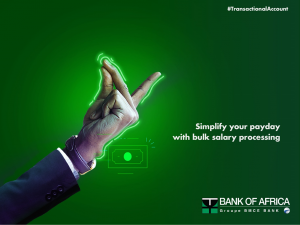 Account Opening requirements:
Standard BOAK KYC documents
Duly filled MPESA Till form as additional compulsory requirement.
Lipa Na M-Pesa Requirements (2019)
Tariff (Key)
Monthly Flat Fee – Nil
Cash handling fees – Nil
Opening Balance Ksh 5,000
Cash withdrawal over the counter – Ksh 200
Ledger fee per transaction Kes 35.00 with an exempt Mpesa tills transactions
All other transactions will be charged as per the tariff.