Angaza Kifafa
The Angaza Kifafa Caravan is an initiative by BANK OF AFRICA – KENYA in partnership with The National Epilepsy Committee Council (NECC). The aim of the caravan is to create awareness on epilepsy with the message that Epilepsy is Manageable. The caravan has reached over 10 million people in 18 counties in the 7 years it has been in existence.
Epilepsy is the most common neurological disorder in Kenya and the 4th in the world.
Angaza Kifafa milestones:
Visited 16 counties (Uasin Gishu, Machakos, Nakuru, Nyeri, Nairobi, Meru, Taita Taveta, Embu, Kitui, Kajiado, Kakamega, Kisumu, Kericho, Mombasa and Kisii, Homabay) in 5 years reaching over 5.5 million Kenyans
Over 202 schools reached
16 churches reached
More than 900 community health volunteers and medical practitioners have been trained to handle Epilepsy cases
Persons living with Epilepsy have been able to be issued with NHIF cards in several counties.
As a result, 1200 people in counties have been able to receive medical attention
Epilepsy clinics and treatments have been established in Kisumu county, Uasin Gishu County and Kakamega county,
BOA- Kenya staff raised the Angaza kifafa- Bank Of Africa flag on Mt. Kenya in support of Epilepsy Awareness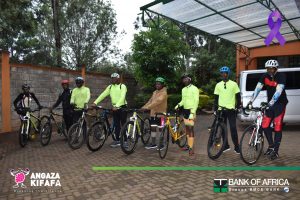 Breaking the silence on Epilepsy
Globally, it is estimated that 1 in 100 people have epilepsy. In Kenya, an estimated 1.2 million people live with epilepsy and only 30% seek treatment. Epilepsy is a disorder in which nerve cells activity in the brain are disturbed, causing seizures.  It may occur as a result of a genetic disorder or a previous brain injury.
A person is diagnosed with epilepsy when they have had two or more seizures in their lifetime. 4 to 10 out of 1,000 people on earth live with active seizures at any one time. A seizure is a shortchange in normal brain activity and can be triggered through stress, fatigue, inadequate sleep, anger, missed meal, flickering lights excess heat or cold. Seizures can be well controlled through seeking medical treatment and taking prescribed seizure medication.
Despite epilepsy being estimated to affect around 2 per cent of Kenya's 45 million population (900,000 people), there are misconceptions about the conditions that makes it difficult to manage. Such misconceptions are what influenced Bank of Africa (BOA Kenya) to take up the epilepsy cause, both internally and externally. Within the bank, BOA Kenya regularly conducts staff training with an aim to debunk the myths. We have gone a step further to create a physically safe work environment by removing flashing lights and other triggers that may cause seizures. Externally, we have been partners in a number of Angaza Kifafa activities:
Bank of Africa Angaza Kifafa Caravan
BOA has partnered with organizations such as the National Epilepsy Coordination Council (NECC) to raise awareness that epilepsy is manageable. So far BOA in partnership with NECC has reached up to 10 million people across 17 counties (Uasin Gishu, Machakos, Nakuru, Nyeri, Nairobi, Meru, Taita Taveta, Kakamega, Kisumu, Kericho, Kajiado, Mombasa, Kwale, Embu, Kisii, Homabay), with the end goal being to raise awareness in all of Kenya's 47 counties. The partnership started in 2015, has reached over 10 million Kenyans, seen more than 5000 patients referred to health facilities for proper treatment and over 6000 medics and community health volunteers trained through the Bank of Africa Angaza Kifafa caravan:
Hiking Mt. Kenya
In September 2018 Bank of Africa Kenya staff took up a challenge to hike an elevation of 4,630 meters on Mt. Kenya to the Lanana peak with a goal to raise awareness that epilepsy is manageable. 
Cycling to Arusha and hiking Mt. Kilimanjaro
In November 2020, A team of cyclists among them two of our very own colleagues John Muteru and Moses Alango, took up a challenge to cycle to Arusha in a record 3 days, covering a total of 320kms. Their courage and effort in being a significant part of the Epilepsy awareness journey made a huge difference in creating this awareness.
After cycling to Arusha, Fred Beuchi of NECC proceeded to hike an elevation of 5895 meters on mt. Kilimanjaro's Uhuru peak with an objective to rally international support for Epilepsy Awareness and advocate for the awareness and rights of People living with Epilepy (PLWE).
Launch of the Epilepsy- Dare to be Documentary
This November, we Launch a myth debunking documentary on epilepsy- Dare to be. This documentary gives a highlight of patients we've walked with since the Angaza Kifafa campaign started in 2015. It will also highlight our stakeholders, who have partnered with us through the 6 year journey.
Epilepsy is not a lifelong condition, most people with Epilepsy live a full life and have the chance to stop medication 5 years after the seizures stop. It is considered "resolved" if the seizures are not experienced in 10 years. So you can only Dare to be.