PesaLink is a bank account to bank account payments solution developed by the Kenya Bankers Association (KBA). It allows users to send money from their bank account to another user's bank account in under 45secs. All one needs to know is the recipients' mobile phone number.
The service is available through Bmobile.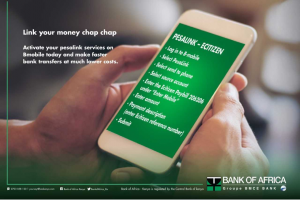 The Benefits of PesaLink
Easy to use
Affordable – The service is far much cheaper compared to the traditional transfer methods.
Instant – PesaLink allows you to transfer up to Kes 999,999 seamlessly in real time. Transfers take a maximum of 45 seconds for a transaction to be complete.
24/7 – Pesalink provides a 24/7 real-time interbanking transaction framework.
How To Use PesaLink.
Step 1:  Go to the PesaLink icon on our BMobile platform
Step 2:  Select – Send to Phone
Step 3:  Enter the recipients' phone number
Step 4:  Select the recipients Bank Account number, amount you want to send and the description of the payment
Step 5:  Confirm the recipients' details and enter your PIN to confirm the transaction.
In less than 45 secs the recipient will receive the money in their account
PesaLink Transaction Tariff – Bank of Africa Kenya Limited
Amount
Cost (Kshs)
10-1,000
Free
1,001-1,500
15.00
1,501-5,000
30.00
5,001-10,000
50.00
10,001-50,000
100.00
50,001-100,000
110.00
100,001-500,000
180.00
500,001- 999,999
200.00
Related Links